"We Play The Game For Games Like This"
December 14th, 2016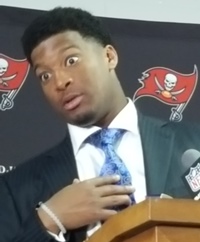 Jameis understands.
America's Quarterback, Jameis Winston, was asked today at One Buc Palace about the big-game nature of Sunday night's game at the 11-2 Cowboys.
Thankfully, Jameis didn't spout a bunch of nonsense that it's just another game.
"We play the game for games like this, the ability to control our own destiny, the ability to be on the stage of Sunday Night Football. "That's one of the reasons why people enjoy this game."
Jameis said Sunday is all about showing media that the Bucs are for real but the team doesn't need that reinforcement.
"It's huge opportunity to show to y'all, but to us, we're very confident in who we are as a team, as a family," Jameis said. "It just looks like another opportunity for us to show y'all what we're all about. We have it. We got to take advantage of it. …  We already feel like we're a big-time team."
Joe loved Jameis' answers. And the sentiment was nothing new. Remember how Jameis recently lectured his teammates about being tired.