Jameis Winston Is "Tired"
December 9th, 2016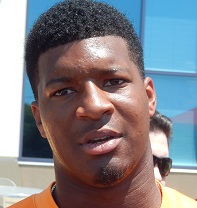 America's Quarterback, Jameis Winston, has expressed his fatigue — a weariness shared by legions of Bucs fans.
If this link to a "hype video" on Buccaneers.com doesn't jack you up for Sunday, then see a doctor or adopt the Jaguars as your favorite team.
The audio — and some of the video — is from a Jameis pregame speech, presumably before last Sunday's kickoff in San Diego.
Jameis is screaming to his teammates.
I'm tired of gettin' disrespected!
I'm tired of low expectations!
I know what we about. I know what we about!
I know how great we are!
Let's keep stacking them Ws. 
And let's do it as a family. …
One heartbeat! 
Let's get it!
Joe's glad Jameis is tired of all the stuff that tires the hardest of the hard core Bucs fans.
Jameis will not inhale the stench of losing. What a breath of fresh air.