Koetter: "I Really Am Not Qualified"
December 8th, 2016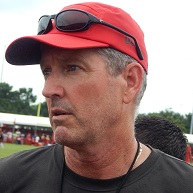 The refreshing and endearing candor of head coach Dirk Koetter went down an interesting road yesterday.
Joe mentioned to Koetter that Pro Bowl voting ends Tuesday and that he called Ali Marpet and Donovan Smith "jackpot" players out of last year's NFL Draft.
So Coach, Joe continued, how have Marpet and Smith evolved and have they reached "top-level caliber?"
"You know, I'm really not qualified to say about the top-level caliber and Pro Bowl voting because I know zero about it," Koetter said.

"I don't know one thing about Pro Bowl voting, as far as following it or where it is or anything like that. I'll say we're happy with both those guys; we're glad they're on our team. You know, I don't get a chance to study every guard and tackle in the league. I think as a coach you're always hardest on the players that you coach. I mean, your guys, you beat your guys up the most, you're trying to get the most out of them. You know, we're constantly trying to develop both those guys – all of our players, but those two [as well]. But there might be five guys out there having great years that I haven't seen one snap of, [on] teams we don't come across. We're happy with those two guys, but I'm not putting it in Pro Bowl perspective. I really am not qualified."
The irony here is coaches vote for the Pro Bowl. Their votes count for one-third of the selection.
Joe presumes, without official confirmation, that head coaches get ballots, possibly all coordinators, too.
Joe isn't knocking Koetter here. The situation just illustrates how goofy the Pro Bowl selection process is.
What exactly should Koetter know about, say, defensive tackle Leonard Williams of the New York Jets, who leads the AFC in sacks at his position? Nothing. That's what.
As for Marpet and Smith, Joe has voted many times for Marpet, and you should, too.