Jameis: Bucs Have Given Fans "Bragging Right"
December 8th, 2016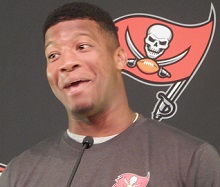 The Bucs are on a winning streak and America's Quarterback, Jameis Winston, made a public appearance at a car dealership on Tuesday night.
So how are the fans treating you lately, Jameis? Joe asked yesterday.
"They treat me well," Jameis said. "You know, after that game ball they got, you know, I figured they'll start treatin' me good. But you know, it just feels good for a fan to be proud of their team. As a fan, that's one thing. you always want. You always want to have that bragging right for your team. And I believe this team has given them that. You know, so I know they're eating that up, and hopefully we can continue to do that for them."
Jameis is right in many areas. Fans are brimming and oozing with pride.
Bucs fans are again proud to wear their red and pewter colors around town. Lunch tastes better. Sex feels better. And the $10 warm stadium beer is delicious.
Jameis and his teammates have served up a real "bragging right." As head Dirk Koetter said Sunday, "Carry a big mother fu%#'n stick." And fans are doing exactly that — at least for now.
As for that game ball, well, it was a wonderful gesture, but Jameis should realize it was rather empty. The bond brewing between this Bucs team and fans is about playing very physical football and wins.
Nothing else.