Jameis Winston Talks Doug Martin
December 28th, 2016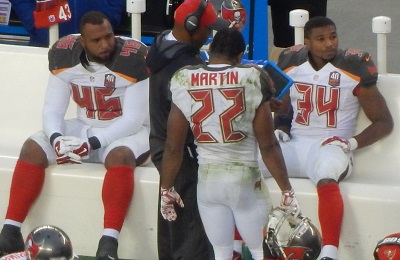 America's Quarterback, Jameis Winston, was talking about suspended Doug Martin tonight, the fallen former star running back who announced today he is seeking treatment for whatever problems led to his four-game suspension by the NFL.
Jameis was on the Buccaneers Radio Network and was asked to react to the news.
"I just got to stand by him. He's my brother. He's my friend. And family's first, you know, so I definitely support him," Jameis said of Martin.

"It's like they said in their statement," Jameis said, referring to the words of general manager Jason Licht and Martin, "there's a lot of things that are more than football right now. So I just want him to really better himself and come out on the up and up, man. Doug is an amazing guy. He's an amazing friend. I'm really looking forward to him bouncing back from this."
Joe also hopes Martin bounces back, though it's an extreme long shot that he'll ever wear a Bucs uniform again in a regular season game.