"I Can't Explain It"
December 5th, 2016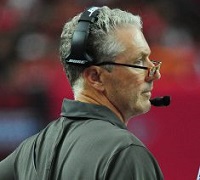 Dirk Koetter is confused.
And he joins legions of Buccaneers fans in the process.
Speaking from the podium at One Buc Palace this evening, Koetter was asked about his team's dynamic 5-1 road record.
"I can't explain it," Koetter said, explaining that he still believes it's much harder to win on the road.
"We gotta carry that over to our home games," Koetter added.
He noted the Bucs have played close contests at the Den of Depression but that's unacceptable.
"Close doesn't get you too far," he said.
Yes, the Bucs are 2-4 at home this season. And the franchise owns the worst NFL home record since Chucky was booted from One Buc Palace.
As for that great road record, linebackers coach Mark Duffner believes it's about family and a "teamness" that can't be duplicated in Tampa.
As Joe has written, the Bucs should find a way to duplicate all those little things that happen on the road, minus whatever the hell went on in Arizona.