"Expanded Role" For Jacquizz Rodgers
December 7th, 2016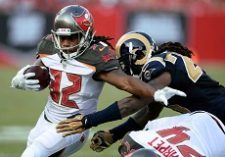 This should shake the feathers of Doug Martin fans and legions of fantasy football players.
Jacquizz Rodgers returned from a foot injury last Sunday and played well in San Diego. In fact, he closed out the game hammering the ball on the ground to run out the clock — after Doug Martin limped off the field midway through the second half.
Rodgers finished with seven carries for 29 yards, plus a catch and run for 21 yards. All year long, he's been more effective on the ground than Martin. He's also an excellent pass-blocker like Martin.
So would the Bucs dare make a major change at bellcow running back?
Offensive coordinator Todd Monken was asked about Rodgers today at One Buc Palace. Monken praised Rodgers for his work Sunday and said he expects an "expanded role" for him this Sunday against the Saints.
Was the comment a tip-off that Martin is hurt and Rodgers will step in? Or is Rodgers going to get the 1A gig against the Saints with a healthy Martin playing No. 2 back?
Interesting decision for Dirk Koetter, especially with Charles Sims expected back Sunday.
There is no time to play games with egos and measuring salaries. The Bucs are in a real playoff run. May the best running back play.