"Crazy To Even Think That"
December 22nd, 2016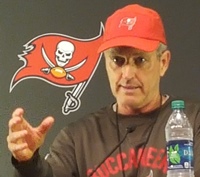 Teams laying down for the Bucs? Preposterous, said Bucs coach Dirk Koetter.
As the Bucs prepare for what many players say is the first playoff game Saturday in New Orleans, the Bucs pretty much need to win their next two games to have a shot at the playoffs.
One loss and the Bucs are pretty much toast. They would need a whole lot of help to get in.
Two losses? Fuhgettabouwtit.
And while the argument could be made that some teams are mentally checked out this time of the season and already have the U-Haul and a ticket to Cancun booked, Koetter has no doubt the Saints and the Stinking Panthers will give the Bucs everything they have.
"That's crazy to even think that [they wouldn't be]," Koetter said. "I'm sure that's what the league wanted when they scheduled all these division games at the end and if you just look at our division – how it's stacked up right there – there's two division games left, so a lot can happen. And New Orleans and Carolina are both coming off wins last week.

"In fact we're the only team in our division that didn't get a win last week. So yeah, we have no expectation of anything but a great game and super effort from both teams, I'm talking about ourselves and the Saints."
You can see what the Bucs need to get to the playoffs by clicking here.
Whether the Saints and/or the Stinking Panthers lay down, Joe doesn't care. What Joe does care about is if the Bucs end up on top with two more wins to end the season.
Then, let the chips fall where they may.