Cowboys 26, Bucs 20
December 18th, 2016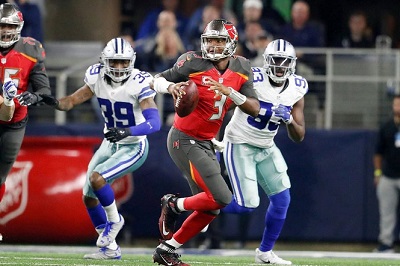 You have to love the grit of America's Quarterback, Jameis Winston, But ironically, in many ways, it was Jameis who wasn't ready for prime time tonight.
The Bucs needed the best of Jameis but got his C+ game.
Man, Joe is feeling kicked in the groin.
Dak Freakin' Prescott outplayed Jameis.
The Bucs' defense, courtesy of a fourth-quarter, bone-rattling hit by Kwon Alexander, served the offense the ball in great position. But Jameis couldn't get it done.
Late in the fourth quarter, the defense again tightened and got Jameis the ball back with three minutes left. He couldn't make it happen. Mike Evans was open on 3rd-and-18, aka 3rd-and-Cherilus. More on that right tackle garbage later.
And AGAIN, the Bucs stopped the Cowboys with 1:41 left.
This was a huge loss across the board for the offensive line. No running game for the Bucs again. It's a distant memory at this point, after Doug Martin cranking out another sub-three-yards-a-carry night.
Still, the Bucs were right there on the door of greatness. A win would have put them right there.
Don't hang your heads, Bucs fans. The playoffs are still there for the taking.