Much To Savor
December 26th, 2016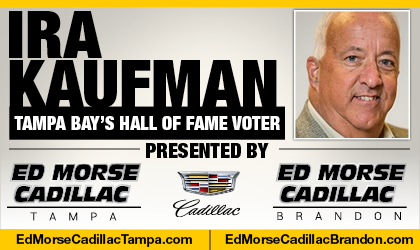 BY IRA KAUFMAN
Amid all the hand-wringing about another disappointing December for the Tampa Bay Buccaneers, let's not forget about the progress made in 2016.
At the very least, Tampa Bay will post its best record since 2010, when a young quarterback named Josh Freeman generated hope that better days were ahead.
With Jameis Winston under center, the feeling is similar, with one important difference.
Unlike Freeman, Winston is the hardest worker on his team. Unlike Freeman, Winston is a natural leader. Unlike Freeman, Winston won't self-destruct.
Whether or not they beat the Panthers in Sunday's suddenly dreary season finale, the Bucs gave their fans a lot to cheer for in Dirk Koetter's first season as an NFL head coach.
There is much to savor — and much work to be done in a busy offseason for GM Jason Licht.
The Bucs aren't there yet. Let's not even debate that point.
Those back-to-back road losses against Dallas and New Orleans with a playoff berth on the line clearly showed Tampa Bay is not a complete team.
But the Bucs are getting there.
The emergence of tight end Cameron Brate provides a massive lift at a key position that was problematic with Austin Seferian-Jenkins, who has the look of a perpetual underachiever.
Kevin Pamphile held his own at left guard, replacing Logan Mankins and giving the Bucs a solid effort. Right guard Ali Marpet is a star in the making.
Mike Evans took the next step in his ascension, earning Pro Bowl honors.
I'm not writing in Evans on my All-Pro ballot for the Associated Press next week, but I wouldn't be shocked if he makes it in 2017. He's that skilled and that driven to be the best.
On defense, rookies Noah Spence and Vernon Hargreaves flashed intriguing potential.
Unlike Da'Quan Bowers and Gaines Adams, Spence has an assortment of pass-rush moves that could make him a double-digit sacker with more playing time in 2017.
Just look at the monster year Vic Beasley turned in for the Falcons in his second pro season.
Hargreaves took his lumps at a very demanding position, but he never lost his confidence while learning how to be a pro by observing Brent Grimes.
Winston will continue to grow, especially with more weapons around him.
Adam Humphries is miscast as a No. 2 receiver threat. He'll be more effective as a slot target, complementing Evans and a speedy wideout added through the draft or free agency.
The running back situation is now murky because Doug Martin returned to the Doug Martin of 2013 and 2014 … injured and ineffective.
The fact Martin was benched in Tampa Bay's biggest game of the season doesn't bode well for his place on the depth chart going forward.
Smokey Robinson and the Miracles warned us that a taste of honey is worse than none at all, but I don't second that emotion when it comes to the 2016 Bucs. Sure, they teased us with a 5-game winning streak before the crash, but better days are ahead.
If Licht can duplicate the success of his first three drafts, this could be the start of something big.
Ira Kaufman, Tampa Bay's only Pro Football Hall of Fame voter, pens columns for JoeBucsFan.com every Monday, Wednesday and Friday, and his award-winning podcasts fire on Tuesdays and Thursdays. Ira also eats all the french fries and pizza at JoeBucsFan.com world headquarters.