60-40 Split For "Slippery" Joey Bosa
December 3rd, 2016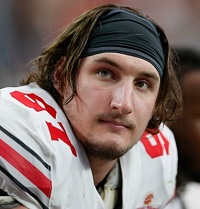 In this post, Joe combines information delivered inside the Bucs locker room and a scouting report this morning by Dirk Koetter.
During Thursday's award-winning Ira Kaufman Podcast, iconic Kaufman shared that Demar Dotson told him film study of dynamic rookie pass rusher Joey Bosa reveals he's been bouncing 60-40 between rushing on the right side of the line and the left. Therefore, the Bucs will be keeping their eyes wide open.
With 4 1/2 sacks in six starts since settling his contract dispute, Bosa is versatile and the real deal.
"Bosa, you know, he's unique. He's long. He's slippery at the line," Koetter told SiriusXM NFL Radio today. "He wins right at the line where a lot of guys win deeper at the tackle set."
The winning at the line stuff scares Joe a bit. Though they're good pass blockers, Donovan Smith and Demar Dotson aren't known for recovery speed.
Koetter also raved about how the Chargers are one of a few NFL teams that gets consistent pressure with a four-man rush, featuring sacks leader Melvin Ingram (6 sacks, 10.5 last year) off the edge opposite Bosa. The Chargers run superior pass rush games to free one of them up, Koetter said.
Not a stats guy, Koetter said Ingram and Bosa have combined for 27 QB hits. America's Quarterback, Jameis Winston, leads NFL QBs in hits absorbed.