The Morning After
November 4th, 2016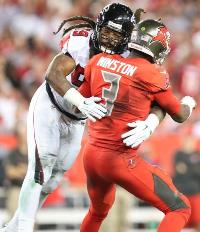 Hell, it's 3:30 a.m. Friday and Joe is just starting to type this.
So it's an abbreviated edition.
7-on-7 Flag football defense
Joe doesn't know where to begin, but one thing is clear: If Mike Smith doesn't find an answer to stop quarterbacks, he may not be back next year — and it won't be because he has a head coaching job (unless he takes a college gig).
Just when it looked like the Bucs defense had turned the corner, it hasn't. Once the Bucs started facing decent quarterbacks, egads. Let's go down the list, shall we?
At Atlanta (Matty Ice 334 yards passing, two touchdowns.)
At Arizona (Carson Palmer 304 yards passing, three touchdowns.)
Los Angeles (Case Keenum 190 yards passing, two touchdowns.)
Denver (Paxton Lynch 170 yards passing, one touchdown)
At Carolina (Derek Anderson 278 yards passing, no touchdowns)
At San Francisco (Sideshow Bob 143 yards passing, one touchdown)
Oakland (Derek Carr 513 yards passing, four touchdowns)
Atlanta (Matty Ice 344 yards passing, four touchdowns)
Notice a pattern? Decent/good quarterbacks go wild on the Bucs.
Now here is the remaining nine games and the quarterbacks the Bucs will likely face:
Chicago, bratty Jay Cutler.
At Kansas City, Nick Foles/Alex Smith.
Seattle, Russell Wilson.
At San Diego, Philip Rivers.
New Orleans, Drew Brees.
At Dallas, Dak Prescott/Tony Romo.
At New Orleans, Brees.
Carolina, Can Newton.
How many wins do you see against those quarterbacks?
Problem is, the Bucs don't have the horses to get into a shootout with these teams. The way the defense is playing like a Pasco County high school summer league 7-on-7 defense, The only way the Bucs can win is in a shootout.
This season very easily could be a Raheem Morris-like 10-game losing streak spiraling into the abyss. And if that happens, well, Joe thinks Dirk Koetter is safe (he's not calling the defense, he's the one suffering countless injuries to skill position players on offense). Yes, even Bucs AC/DC-loving Jason Licht is safe. Smith? Hope he's renting.
Joe likes Smith a lot, but this is how Lovie Smith got fired.
Home ineptitude
Unless something drastic takes place the second half of the season, Joe almost pities the Bucs suits.
How in the Sam Hill do they expect to sell season tickets next year? Three home wins since Greg Schiano was fired (3-17) and just 17 wins at home since Chucky was jettisoned in January 2009.
Only research will reveal if this is the worst stretch of home losses in North American pro sports or not. It is easily the worst home record in the NFL since 2009, by five games (or a season's worth of wins for the Bucs).
It's to the point Team Glazer ought to offer to play all "home" games in Europe or China or Mexico.
No more primetime games until…
Please NFL Network, BSPN, CBS, NBC, NFL broadcast guru Howard Katz and strongman Roger Goodell, please no more Bucs primetime games until this team can prove it can start winning on a regular basis.
The Bucs always seem to shat the bed in primetime. Even the wins (over Carolina last month, over Miami in 2013) stink to high heaven.
No punts
The Dixie Chicks did not punt once Thursday. Mike Smith, that is on you, sir. Can you find an answer? It's not like your defense is riddled with injuries like Dirk Koetter's offense. It seems Koetter is able to find points, despite going through four running backs, a No. 2 receiver and a dangerous tight end. What say you, Mr. Smith?
Tidbits:
* Four of the top eight tacklers for the Bucs were defensive backs.
* What happened to Lavonte David? Once thought to be a premiere linebacker, David isn't even the best linebacker on the Bucs. People whine about Gerald McCoy supposedly disappearing and making too much money, why does David get to skate free? Don't ever recall GMC dropping a goose egg like David did earlier this year at Arizona. This just in: Lavonte David has never experienced a winning season in the NFL.
* Fumbles hurt the Bucs. While most fans were focused on cursing the defense, overlooked was that America's Quarterback, Jameis Winston, didn't play so badly. Except for a nasty fumble. His fumble on a quarterback sneak at the Falcons-39 killed what looked like a scoring drive last in the first quarter trailing 10-7. Atlanta kicked a field goal on the ensuing possession. Antone Smith's fumble deep in Bucs territory on the previous possession set up Atlanta with a field goal as well. It was the only time the Bucs showed a pulse on defense.
Gameball
Mike Evans: Stud had 150 yards receiving and two touchdowns, one a circus catch. He was targeted 17 times and caught 11.