Invisible
November 4th, 2016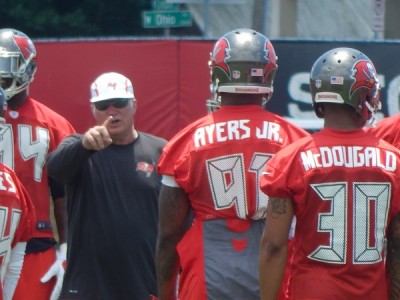 Joe is a fan of big-money defensive end Robert Ayers, but the guy is starting to resemble Michael "Ghost" Johnson, the ugliest memory of the 2014 season.
Ayers is now two games back from a Week 2 ankle injury, and he's been rather invisible in both games.
He's barely a blip on the box score.
Yeah, he's coming back from an injury. Joe gives Ayers a mulligan for the Raiders game, but what about last night?
Not acceptable.
It's midseason in the NFL. Lots of guys are battling injuries on both sides of the ball, especially in the trenches.
The Bucs are paying Ayers about $8 million this season. At 31 years old, he won't be back for a second year unless he can have a rousing second half of the season. Johnson was banged up during his one year in Tampa, and the Bucs paid him a huge buyout ransom not to return in 2015.
Again, Ayers is way more of an effort and team guy than Johnson, but he must produce.
Remember, Gerald McCoy is supposed to be making those around him better, and every current coach Joe hears swears McCoy is that guy. So by that logic, Ayers certainly has no excuse.