Not One Word
November 1st, 2016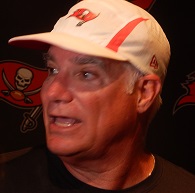 Interesting stuff from veteran football man and Bucs defensive coordinator Mike Smith today.
Smith, whose defense was roasted for an historic 513 yards through the air Sunday, emphasized that he and his staff didn't speak "one word" to players about Sunday's game against the Raiders.
Literally, Smith said, no game review or teaching moment. The Bucs moved on. He moved on. Period.
Of course, the fact the Bucs host Atlanta on Thursday Night Football has a lot to do with the approach, but it's still rare for a coaching staff to ignore four quarters and a long overtime. Including accepted penalties, the Raiders snapped the football 94 times!
Joe loves the attitude. You want players to move on? Then coaches must move on.