"Smitty Tried A Lot Of Different Defenses"
November 7th, 2016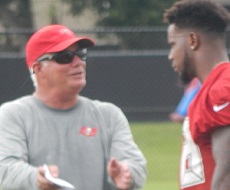 Failed Bucs defensive coordinator/head coach Lovie Smith was a stick-to-the-system kind of guy.
New Bucs DC Mike Smith is just the opposite.
In fact, if Lovie heard Dirk Koetter's postgame chatter Thursday, the shock and horror might have led him to call Mike Jenkins for tender, comforting words only a bromance could offer.
"That third quarter, we just couldn't get off the field. I mean, we couldn't," Koetter said. "Smitty tried a lot of different defenses and, you know, we just couldn't get a stop."
Yes, Mike Smith has not been afraid to diversify in an effort to confuse offenses and get the most out of his personnel.
One could argue Smith has done a bad job. The defense has been embarrassed by two of the NFL's best offenses the past two games (Atlanta and Oakland). Those performances came on the heels of strong showings against two of the worst NFL offenses (Carolina and San Francisco).
So what does the real Bucs defense look like?
Joe's not sure, but Joe can say it's always going to look sour unless the pass rush can find consistency. Breathing on quarterbacks, let alone hitting them is a challenge for the Bucs (again!).
Reviving Lavonte David also has to be atop Smith's list of duties in the second half of the season. If David doesn't have an inspiring final eight games, like he did last year, it might be time for Jason Licht to make a bold move and trade him this offseason.