Doug Martin Still Sidelined
November 7th, 2016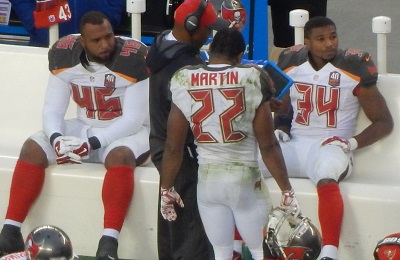 After saying last week on SiriusXM NFL Radio that Doug Martin was a definite maybe to be ready to play against the Bears on Sunday, Dirk Koetter and team doctors kept Martin off the practice field today.
The Twittering of Tampa Bay Times beat man Rick Stroud shared the news from today's practice session. Media can watch the first 30 minutes, so it's unclear what happened after that. The Bucs will be on the field until about 11:30 a.m.
Tampa Bay's official injury report is due to be released, per league rules, on Wednesday afternoon.
After the injury to Antone Smith, the Bucs' running backs depth chart currently looks like undrafted rookie Peyton Barber, Mike James and undrafted rookie Russell Hansbrough.
This has many Bucs fans stocking up on antacids.