Joe Talks Culture Change With Pete Carroll
November 24th, 2016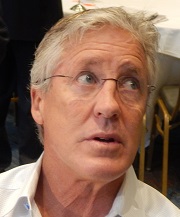 Once upon a time, superstar Seahawks head coach Pete Carroll was a one-and-done coach with the New York Jets.
His Jets mentally collapsed after one legendary play.
Boy, that sounds familiar.
Carroll has been around the NFL block, so Joe asked Carroll to comment yesterday on the culture change Dirk Koetter spoke with angst about early this season. It really wasn't that long ago (though it feels like forever) that Koetter thought a winning culture and mindset was absent from the Bucs' locker room — that special something you smell from winners or teams on a a winning path.
Joe asked Carroll how long a winning culture takes to craft.
"Since I've been fired so many times, I've found that it's a lot harder to get to than you think," Carroll said. "It took some time here. We won the division the first year with a losing record, so that was not a great start. I think it took us a couple years to get rolling and I think year three and four really, it started to pick up. It just depends. It depends on the makeup of your team. It's not just a set formula. It depends on the age of your players and the way that you can handle the roster and adapting the roster and all of that. It always depends upon how your quarterback is playing, so they've got a great QB and I'm sure their transition is going very quickly."
That last sentence from Carroll says so much. America's Quarterback, Jameis Winston, literally put the Bucs on his back in Kansas City. And the Bucs' path now seems oh so right.