The Franchise Rises
November 20th, 2016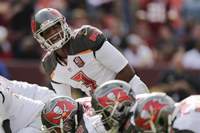 You'd have to go back in time nearly 15 months to find a quarterback who threw for 300-plus yards on the Chiefs and beat them.
It just doesn't happen, but it did today.
America's Quarterback, Jameis Winston, spat in the face of the mighty Chiefs defense and the loud Arrowhead faithful and completed 24-of-39 passes for 331 yards and a touchdown in the Bucs' 19-17 win.
Yes, Jameis had some senseless gambles, but he was one hell of a franchise quarterback.
He spread the ball around. He made clutch throws. He put the team on his back in the face of no Bucs running game.
This is why Jameis was drafted — to lead and to be the straw that stirs the drink in meaningful games.
Hopefully, the Bucs took a real stride today as a team. Joe believes Jameis definitely reached a new height.