Doug Martin Swears These Bucs Are Different
November 20th, 2016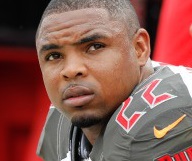 Live in the happy Buccaneers locker room this afternoon, Joe and Doug Martin talked about the culture of losing.
Martin, unfortunately, is an expert in this subject. He's never played on a winning Bucs team.
His 2012 Bucs jumped out to a 6-4 start and shocked the NFL. The crumbled to 6-6 before agony struck in a gut-wrenching home loss to Nick Foles and the Eagles on the day the Bucs honored the 10-year anniversary of the Super Bowl champs.
Last year, the Bucs clawed their way to 6-6, and then they tanked the final four games of the season and their coach was fired.
Now the Bucs are 5-5 and riding high after beating the Eagles today.
So Doug, why are these Bucs better than those other teams that collapsed in December.
"I believe this team is different from the past because this team has more fight, more competitive spirit than those previous teams," Martin said with conviction. "This is a team that wants to win, wants to win out and get this streak going."
Joe talked about the same subject to Lavonte David, a member of Martin's 2012 rookie class.
David said this year's Bucs are more legitimate than those other Bucs teams because they are "executing at a better tempo" and "having more fun on the field."
There's more gelling through the entire team, David said, and the fact this year's Bucs are healthier at this point in the season than last year's team is a huge improvement.
Do you believe?