Double Doom Call Against Bucs
November 12th, 2016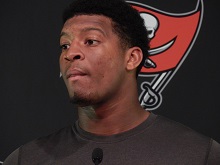 Vegas wiseguys and highly knowledge football men are picking against the Bucs on Sunday — in favor of a two-win Bears team.
Joe hopes the Bucs players are as pissed off as Joe is.
Halfway through the season, experts believe the Bucs are sinking fast and are seemingly incapable of winning another game this season. If you don't think Tampa Bay can beat the Bears at home, then who exactly can the Bucs beat?
In this RealFootballNetwork.com video, former NFL quarterback Jim Miller, coach and front office executive Pat Kirwan and defensive coordinator Gregg Williams all pick the Bears to beat the Bucs.
Miller, who played for the Bears and stays close to the team, picks a 10-point win, 27-17, behind an emerging Bears defense (12th-ranked in the NFL). Kirwan, a friend of Mike Smith, says it's 27-20 Bears, and Williams predicts 27-24.
To make matters worse, all three pick the Saints to beat the Broncos in Denver on Sunday.