Donovan Smith Addresses His Bad Game
November 9th, 2016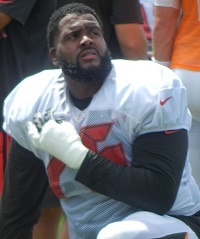 Every Bucs fan paying attention could see that left tackle Donovan Smith got embarrassed too often on national television Thursday night.
Smith played nowhere close to the strong standard he had set through his first 23 NFL starts. Adrian Clayborn and Brooks Reed of the Falcons stole his lunch money and he looked a stop slow.
Hey, it happens. Joe remains a Smith fan and supporter. The second-year man has never missed a snap and is a solid player.
One fan reached out to Smith on the Buccaneers Radio Network last night to request an explanation.
"Ups and downs. It particularly wasn't the best game, obviously," Smith said. "You know, a lot of it had to do with me. You know what I'm saying. Not so much them beating me, it was more so my technique or whatever that got me in trouble. It's behind us now. You can only just move forward."
Joe really wants to see a bounce back game from Smith on Sunday. The legs should be fresh. The mind should be right. And the Bears have a solid, 12-ranked defense for Smith to test himself against.