With The 8th Pick In The 2017 NFL Draft…
November 9th, 2016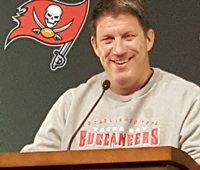 Yes, halfway through the 2016 season, the Buccaneers have secured the No. 8 pick in the NFL Draft, if the season ended today.
So what do the Bucs need?
Well, NFL.com has its running analysis of team needs and the draft, delivered by in-house film guru Lance Zierlein.
8. Tampa Bay Buccaneers
2016 record: 3-5 (.522)
Top needs: DL, S, WR
Analysis: Tampa Bay will need to find a high-impact player along the defensive line who can create mayhem on a regular basis. Safety is a need and could get early round consideration. While Mike Evans is a stud, Tampa Bay has to find another threat for Jameis Winston.
Zierlein is well focused here, Joe believes.
The Bucs are desperate for a wide receiver, and they'd be clueless if they passed on greatly enhancing the weapons available to America's Quarterback, Jameis Winston. You don't draft a QB No. 1 overall to hang him out to dry.
Joe suspects the Bucs will address receiver in free agency, since they shouldn't gamble on a receiver in the draft.
Same old story on the Bucs needing a "high-impact player" on the defensive line. When was Gaines Adams drafted? Yeah, 2007.
Based on how the second-half of the season plays out at running back could determine if the Bucs look there as early as the third round in April.