Dancing Postgame Jameis
November 4th, 2016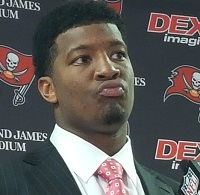 What you won't see on the postgame news conference video of America's Quarterback, Jameis Winston, was Jameis stepping off the podium, scowling and then intensely dancing.
The freestyle dance appeared to be directed at Tampa Bay Times reporter Rick Stroud.
It was part tap dance, part running in place — and Stroud and Jameis did exchange a few words.
Stroud opened the news conference peppering Jameis with questions about his knee injury suffered with four minutes remaining in the game.
Jameis claimed no knowledge of the injury.
Of course, Jameis is well known for his selective memory. Several times he's told media he's unaware of injuries or plays that were obvious to all watching.
Joe applauds Jameis' fire and intensity. He'd have to be in a bodybag to admit he's hurt.