Koetter: Intensity Hits The Mark
November 5th, 2016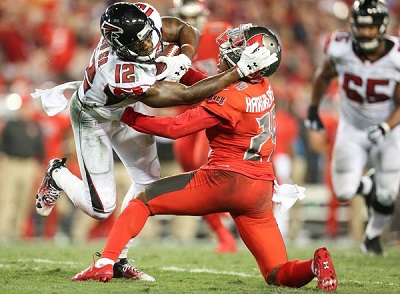 Do you finish watching a Bucs game and find yourself saying, "Man, this team, win or lose, really gets after at. Man, they come out firing play after play. This is one physical, intense team."
That's not Joe's typical reaction. But sure, there of examples of consistent intensity coming from guys like Ali Marpet, Joe Hawley, Mike Evans, America's Quarterback, Jameis Winston, and others. But is the collective intensity there?
So following the Bucs-Falcons game on Thursday night. Joe asked Koetter for his opinion.
JoeBucsFan.com: Is the intensity of the team as a whole where you want it to be?

Dirk Koetter: I think the intensity is a lot better than you think. Now when it got away from us a little bit there at the end. But, yeah. Come down, leave your tape recorder and come on down on the field. That hittin' is real, ok, that hitting is real.
Koetter had a lot of intensity in his response. So that's great news. Koetter likes what his team is bringing to the table, even during a blowout home loss.
Lovie Smith accused the Bucs of not showing up at home for the entire 2014 season, and for the game that truly kicked Bucs fans in the groin like no other.
So in that light, it's encouraging that candid Koetter likes the fight in his team. It seems the only issues right now are talent and coaching.