Tuesday's Full Jameis Winston Audio
November 30th, 2016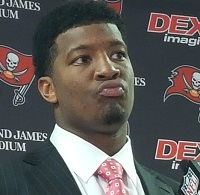 America's Quarterback was talking on America's football show.
Of course, Joe's referring to PFT Live with Mike Florio on NBC Sports Radio. The creator, curator and guru of ProFootballTalk.com is a strong interviewer and he peppered Jameis Winston yesterday.
Good listen below. Jameis starts at the 20-minute mark. Joe's already written up a meaty excerpt, which can be found at AmericasQuarterback.com.