"We Don't Need To Come Out Like That On Defense"
October 3rd, 2016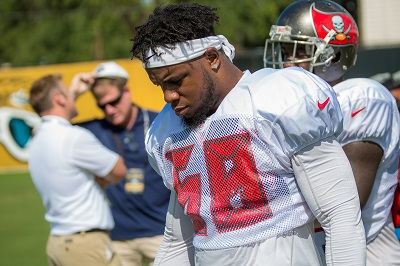 Kwon Alexander, aka the Jameis of the defense, is starting to become the Dirk Koetter of the defense because of his candid commentary.
Joe highly reccomends the two-minute postgame audio of Kwon below, via WDAE-AM 620.
Trailing 17-7 at halftime, the Bucs' defense was on the field first with Broncos rookie Paxton Lynch under center. Lynch, coming off the bench in his first-ever NFL game, engineered a 16-play drive for a field goal that ate 7 minutes and 57 seconds off the clock.
How does that happen?
"It was crazy. The second half? That was bad," Kwon said. "We don't need to come out like that on defense. We got to come out better with a lot more energy."
Yes, Kwon, a lot more energy would be nice.
Kwon also touched on more topics, including suggesting his teammates start staying late and giving more during the week to find answers.
Kwon is all-in on the Bucs. Joe wishes the Bucs had a lot more like him.