Is Jameis Scoring Big In The Locker Room?
October 8th, 2016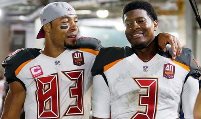 Interesting take yesterday by Vincent Jackson.
The struggling Bucs captain said he hears America's Quarterback, Jameis Winston, welcoming all the blame for the woes of the offense. Jameis is quick to blame himself, and the outside world is firing a disproportionate amount of darts at him.
Jackson appreciates how Jameis has embraced the criticism — even when he doesn't deserve as much as he's getting.
"I love the fact that as a young player that he's able to shoulder that. And he's willing to do that openly," Jackson said on the Buccaneers Radio Network.

Jackson rattled off a list of non-Jameis things affecting the offense, O-line issues, protection and outside receivers. And then Jackson quickly added this interesting one to the list, "something to do with the game clock and management."
Joe wonders how much Jameis pointing the finger at himself is scoring him points in the locker room, especially among his offensive teammates.
Hopefully, it will lead to others playing harder around Jameis.