"Captain For A Reason"
October 19th, 2016
Ira looks back at the impact of Vincent Jackson — and the impact he didn't make. Great quotes by Luke Stocker highlight how some lost Bucs didn't seize the great opportunity Jackson provided.
BY IRA KAUFMAN
Signing Vincent Jackson as a free agent in 2012 turned out to be one of Mark Dominik's better moves during a forgettable five-year run as general manager of the Buccaneers.
Jackson, who turns 34 in January, opened his Buc career with three consecutive 1,000-yard seasons, grabbing 220 passes and scoring 17 times in that span while reinforcing his stature as one of the NFL's premier deep threats.
And while Jackson's tenure with Tampa Bay has ended with a knee injury, it's not a stretch to suggest his career is also done. This is a cruel league for older wide receivers — just ask Roddy White.
So how do we sum up Jackson's career? Very good, but not great.
In case anyone was wondering, he's not going to be rewarded with a bust in Canton. He's a rangy, 6-foot-5 target who made big plays down the field and he generally falls in the Keyshawn Johnson category.
Very good, but not great.
Jackson showed his age in the past two seasons as injuries limited his participation and his production. He will finish his Tampa Bay career with only one 100-yard effort in his final 18 games, ending with an eight-game touchdown drought.
Failed Eye Test
Jackson never looked right from the first snap of the 2016 season, failing to provide a dangerous complement to Mike Evans. His patterns weren't crisp and he struggled to gain separation.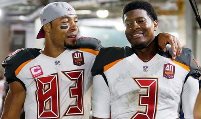 Still, he was a veteran presence who will be missed for his leadership within the walls of One Buc Place.
"The ultimate professional," said tight end Luke Stocker. "Vincent came here in 2012, my second year in the league, and I saw the intensity he brought to practice every day and the way he prepared for Sundays."
In San Diego, where Jackson played seven seasons, he was hardly known for his leadership qualities.
He was arrested twice for driving under the influence. On the morning of a Chargers playoff game, Jackson was cited for driving with a suspended license.
San Diego management didn't want to deal with Jackson and his agents anymore, so they let him go in free agency.
The Chargers considered Jackson a bit of a diva, but he lost all that baggage by the time he arrived in Tampa. He didn't miss a game in those first three years with the Bucs, and his toughness down the stretch in 2014 was particularly impressive.
"Captain For A Reason"
As Lovie Smith's disastrous first season in Tampa wound down, players dove onto the injured reserve list, seeking shelter from the storm.
Not Jackson.
He slogged on, catching passes from Josh McCown and exhibiting the professionalism he was rarely given credit for in San Diego.
"What a leader," said Adam Humphries. "We voted him a captain for a reason. Vincent is someone you look up to, on and off the field."
Jackson's time in Tampa is also marked by a strong commitment to the military, honoring his parents, who served in the U.S. Armed Forces.
From a media perspective, Jackson never sought the spotlight. But when he did speak, he was forthright and incisive.
One of his major disappointments in Tampa was the sight of Josh Freeman and Mike Williams imploding before his very eyes. They both flubbed a big opportunity. All they had to do was hang around No. 83 and soak up all that professionalism.
"Vincent Jackson was willing to offer advice to anyone willing to take it," Stocker said. "He offered so much more than what was taken by some of those guys."