Video: Why Clinton McDonald Smells A Run
October 17th, 2016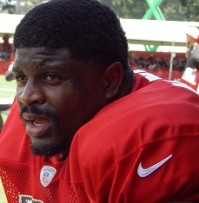 Joe loves shooting video of defensive tackle Clinton McDonald, who definitely has the best set of pipes on the Buccaneers.
Plus, McDonald usually has a lot to say, even if there's not much meat on the bone.
A bearer of a Seahawks Super Bowl ring, hamstring-challenged McDonald explained in the locker room today why he thinks the Bucs are poised to make a winning run.
It's about cohesion.
Enjoy!