The Morning After
October 3rd, 2016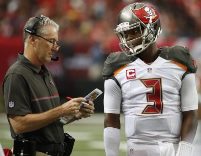 If Joe wasn't working and covering the Bucs for a living, Joe would have checked out of that Bucs game yesterday long before the lightning delay.
Joe's guessing many Bucs fans threw in the towel about the same time.
So let's not waste any time and dive right in.
Koetter Added To Losing Culture
Yes, a lot was made about Bucs coach Dirk Koetter punting midway through the fourth quarter down 20 with the ball at the Denver-46.
Koetter, in so many words, didn't have confidence in the offense and he said that's why he punted hoping the defense could create a turnover and give the Bucs a short field.
Right.
First, Koetter surely has watched Mike Smith's defense the first four games. To paraphrase his comment to reporters about punting, Joe isn't sure why anyone would think the Bucs would get a takeaway there watching this defense this season. The Bucs have a grand total of two takeaways through four games. Even as vicious as Denver's defense is, every offensive play is a chance to score. Keyword: chance.
So if Koetter really didn't believe his offense had a prayer: 1. Why didn't he have Jameis take a knee every snap in order to punt the ball quicker; and, 2. If Koetter really didn't believe the Bucs had a chance to score, then what the hell was Jameis in the game for getting the living tar beat out of him? Koetter's excuse simply doesn't add up. Averages? Bull!
Punting sent an awful message to his team: I don't trust you to succeed. Even though you guys have worked like dogs for weeks since July, and are getting the holy crap pounded out of you today, I'm quitting on you. Not exactly the best way to keep harmony among players. You can't tell Joe guys weren't looking at Koetter sideways, like a dog hearing a shrill whistle, when he called for a punt.
Koetter talked a lot last week about a losing culture in the Bucs locker room. Well, he just helped cement that.
At best, Koetter's decision to punt was letting his frustration get the best of him. At worst, he may have lost his team with that stunt. Koetter quit on his offense Sunday.
Pull A Jimmy Johnson
The favorite piñata of the moment for Bucs fans is safety Chris Conte. Joe is always asked why Conte starts. Simple: the Bucs trust him more than his backup. Need an example? Look back at last week where Keith Tandy played patty-cake with Tavon Austin and Austin scored a critical touchdown. All Tandy had to do was shove him out of bounds. That's why Conte is playing.
Joe doesn't have an ax to grind with Conte but the Bucs were trying to potentially pull within one-score early in the third quarter. The Bucs seemed to have forced Denver to punt or try a long field goal attempt after a third down pass by Paxton Lynch fell incomplete. But no! Conte was called for holding. Denver gets a first down and is able to march inside the Bucs-5 for a chip shot field goal and a 20-7 lead.
You talk about a loser mentality, there you go. Make a dumbarse penalty when your defense would have been off the field. If Koetter was Jimmy Johnson, he would have cut Conte for that alone and sent a message to the team: We are losing with you; we can lose without you. Be dumb and play dumb? Then go grovel for a job where you need an ice scraper every morning beginning in a couple of weeks instead of hanging by the pool with a cold beer after yet another loss.
It seems Koetter has already sent a message by cutting ASJack@ss. So why stop there?
Time For Jameis To Act On His Words
Yes, America's Quarterback, Pro Bowler Jameis Winston, had a rotten game. He now has eight picks this season. The only quarterback with more picks is horrid NFL vagabond Ryan Fitzpatrick of the Jets.
Enough!
Each week, Jameis says he has to cut down on the turnovers. If one keeps saying that but still throw turnovers, then either he is conning fans and really doesn't care about turnovers, or he is pulling an ASJ and offering empty words.
It's time for Jameis to start heeding his own voice. You know, sometimes it is OK to throw a pass away rather than force it through a crack in a window for a pick. He's no longer playing Wake Forest, in case Jameis hasn't realized this yet.
Tidbits
* After the touchdown drive that ended with Jameis running the ball in (why couldn't he have done that last week against Los Angeles?) the Bucs converted but 2-of-13 third downs the rest of the game.
* Jameis absorbed 16 quarterback hits.
* Joe is sure the anti-GMC rabble will point out with glee the team had four sacks on a day GMC was lost in the first half with a calf injury (GMC himself had a half-sack).
* When three of your top five tacklers are defensive backs, that's not good.
* Why exactly did Jacquizz Rodgers only get six carries? He averaged over four yards a carry? Was Koetter that stubborn to stick to a (flawed?) gameplan that called for Charles Sims to be the bellcow, he of 1.9 yards per carry?
Gameballs
Clinton McDonald and Akeem Spence: No Jacquies Smith, no Gerald McCoy, no Robert Ayers, no Noah Spence. Yet these two guys, instead of laying down, balled out and had their best games in some time. McDonald was a beast with 1.5 sacks, eight tackles, two for a loss and two quarterback hits. Akeem Spence had five tackles, a half-sack and a quarterback hit.
Quotes:
"I'm very concerned." — Dirk Koetter on Jameis' play the past three games.
"At times, I do try to do too much and that's a part of the problem. I've just got to do my job and let the players play." — Jameis.
"I'm feeling hurt. We've got to do better, we've got to pick it up. I know you all get tired of hearing the same thing over and over, but we've got to do better. We've just got to go in – you've got to do extra, we're not doing enough, we've got to do extra. The leaders have to step up." — Kwon Alexander.
"It was a combination of everybody. Offensive line, tight ends, running backs, everybody can do a better job. I don't think it's a one-person point, but it's definitely a unit that's not getting it done." — Demar Dotson.
"They were just better than us. We just couldn't do anything against them. They're a simple defense and we were getting the looks we thought we were going to get, we just couldn't beat them." — Mike Evans.
"I wouldn't say it sucked the life out of us. To me, when I see Gerald go out, it makes me want to play harder because now I know one of my brothers is down, one of my brothers is out of the game. He can't do anything but cheer from the sidelines so now I have to do even more, just because I want to do even more to let him know we're going to be good without him. I pray and I wish he was out there, but when he left the game, we just had to go harder for him." — Bradley McDougald.
Punts:
Random quick thoughts not necessarily NFL-related.
Only 14 percent of teams that start out 1-3 since 1990 have made the playoffs. … Since 1990, only 21 teams have made the playoffs after starting 1-3. … The Den of Depression: The Bucs are now 17-39 in home games played in Tampa since Chucky was fired in January 2009 (the Bucs have played two games in London classified as home games). And some folks wonder why Bucs fans less and less are going to games? … The Bucs have a takeaway/giveaway ratio of -9. The only team worse is the Jets. The Bucs have an average of -16 point differential in games this season, the worst in the NFL. … Is there a more exciting sport than college football? Look, Joe loves the NFL, but college football delivers week after week after week. Rarely does a Saturday go by wihout a thrilling game. Often, there are several like on Saturday. Pound for pound, Joe doesn't know of any other sport that delivers like college football. And it doesn't need fantasy football to keep it floating. … So the Cardinals missed the playoffs by one game, first time this decade. It always irks Joe when, early in (any sport) a season, someone says, "It's just one game." Yeah, that one game can cost you big time, even while playing a 162-game schedule.