Steady Suffocation
October 4th, 2016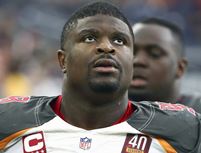 The hallmark of the Greg Schiano years, not including regulation of movie titles and meal temperature and thermostats, was a ferocious run defense complemented by one of the worst pass defenses known to man.
In fact, the Bucs defense was No. 1 against the run in 2012, which promped the team to let stout young run stuffers Roy Miller and Michael Bennett leave town in free agency for no good reason.
Last year, the Bucs were among the NFL's best against the run, and they're back at it again through four games in 2016. Teams are averaging just 3.3 yards per carry against Tampa Bay. That's the fourth-best mark in the league.
The only real black mark against the run defense as a whole is the fact it hasn't forced a fumble yet this season in 117 rushing attempts. That's not good. Only five other teams can say that, but just one (Atlanta) has faced more carries than Tampa Bay.
For more perspective, look at how bad the Bucs' rushing offense has been this year. But they're averaging 3.4 yards per carry. That's better than teams have been doing against the Bucs.
Tampa Bay has shown it can make teams one-dimensional, but it's still struggling to make key stops, force turnovers, and to communicate.
At least there's something to build on right now, and that's the run defense.