Properly Prepped
October 28th, 2016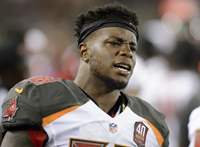 Remember how the quick brain of Kwon Alexander was credited for that huge blitz-sack-fumble against Colin Kaepernick last week?
Joe talked to Kwon about it this week.
Joe was trying to figure out what led to the line of scrimmage check by Kwon to that corner blitz.
Did that go back to knowledge learned in training camp? Was it the kind of thing Kwon felt he might have missed in previous games, meaning Kwon was now more mature in the defense?
Without Kwon's roundabout quotes, the simple answer was Kwon credited 49ers-specific study with Mike Smith. It was pure game-week preparation, film study for a look.
"Seeing one thing doesn't always mean calling that blitz, but I got it right, and credit the coaching staff. We were on our Ps and Qs," Kwon said.
Bucs defensive end Robert Ayers has said on his radio show that he's up Kwon's ass, sometimes too much, about becoming a pronounced team leader. Ayers believes Kwon has it in him, and he believes the Mike linebacker should be that guy.
Smart calls like Kwon made in San Francisco go a long way toward cementing a leadership role.