No McCoy, Martin Or Ayers Seen At Practice
October 17th, 2016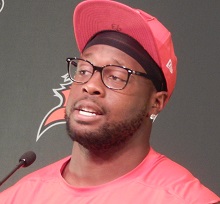 Rough morning for the optimists.
Joe's eyes on the early part of Bucs practice did not catch injured Gerald McCoy, Robert Ayers and Doug Martin on the practice field with their teammates.
It's early in the week and this is a bonus underwear football practice because of the bye week. Typically, the real first practice of the week is Wednesday — in pads.
Good news. Louis Murphy is back practicing, but no sign of J.R. Sweezy. But were on the physically unable to perform list to start the season but eligible to practice as early as this week..
Joe will have more on Murphy shortly.