Louis Murphy Returns
October 17th, 2016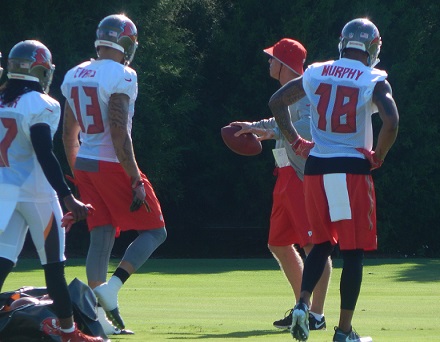 Eleven months after ACL surgery, Louis Murphy was back on the practice field this morning.
Under sunny skies at One Buc Palace, Murphy was running and cutting running through underwear football drills at One Buc Palace. During the 30-minute window open to media, Murphy was doing everything his teammates were doing.
Among those teammates was Donteea Dye, who was signed to the Bucs practice squad today. If you were stunned to see ol' No. 17 in the photo above (and not in a CFL uniform), you can relax. He's way down the depth chart right now.
Now off the physically unable to perform list, Murphy is not yet on the active roster. He's got a 21-day practice window, per the Bucs, for the team to make a decision.
Joe's so happy for Murphy.
Is Murphy an All Pro receiver? No, but he had great success with Dirk Koetter last year, one of his better seasons, until he was injured. With Vincent Jackson being a shell of his former self, the Bucs could sure use Murphy. And soon.