Inside Jameis Winston's Locker
October 18th, 2016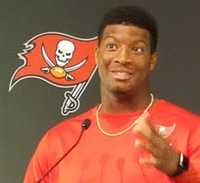 It didn't make the USA Today list of top-30 Muhammad Ali quotes, but it's powerful enough to be the lone inspirational quotation visible in the locker of America's Quarterback, Jameis Winston.
About five inches wide on thin white paper, with transparent tape keeping it prominent, are the words, "What You Are Thinking About, You Are Becoming."
That's Jameis' locker-room message to himself, with an assist to Ali, whose face is alongside the quote.
Joe talked briefly to Jameis about the quote yesterday. Joe said it was a good one, and Jameis corrected Joe to say it is a "a great one." It's not new to Jameis' locker, he said, and it's an important daily reminder.
So what is Jameis thinking about?
Hopefully, his mind is on playing confidently and comfortably within the offense and not forcing things. The latter would jibe with Jameis' public statement that he needs to take more sacks.