"I Am Very Confident Jameis Will Bounce Back"
October 4th, 2016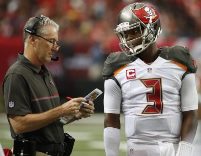 Sometimes it is good for an NFL coach to decompress for a day after watching his team get seal-clubbed.
That seems to be the case for Bucs coach Dirk Koetter. After throwing in the towel Sunday night and basically giving up midway through the fourth quarter, in part because he lost faith in his franchise quarterback, Koetter seems to be back on the Jameis bandwagon.
In his weekly sitdown with raconteur Dan Lucas of WFLA-TV Channel 8, Koetter threw his support behind Jameis. While again admonishing Jameis for turnovers he said is killing the team, Koetter admitted Jameis was "definitely" frustrated by Sunday's game and will rebound.
"I am very confident Jameis will bounce back," Koetter said. "I think at times Jameis wants to win so badly and is such a competitor, that he can sometimes try to do too much.

"There are times in the NFL where you have to give up on a play and cut your losses. Jameis went through this and learned his lesson and played well. I think he will do it again."
That's quite a difference from Sunday night when Koetter said he was "very concerned" with Jameis and his penchant for picks.
Koetter had more to say about both Jameis and Gerald McCoy in the interview. You watch below in its entirety. One thing interesting is Koetter was rather tight-lipped GMC. Usually, when Koetter is evasive or won't discuss an issue, specifically about a player's status, that often means bad news is about to surface.