"We're Going To Talk On The Phone"
October 30th, 2016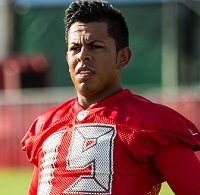 Help is on the way for Roberto Aguayo!
And it will come from a very sour man.
That's the word from kicker Sebastian Janikowski, perhaps the only grumpy dude in the very happy Raiders locker room.
Considering Aguayo is an absolute mess of a kicker right now, Joe went talk to Janikowski after the Raiders beat the Bucs this afternoon.
Janikowki, the 2000 first-round pick of Oakland, was rather rude to Joe. Maybe it's because Janikowski missed two field goals in the Raiders' overtime win, but Joe wasn't asking about that.
Joe wanted to know if Janikowski had talked to his fellow Florida State man Aguayo, and what advice Janikowski might have.
Well, let's just say Janikowski was in no mood to talk to Joe.
However, Joe pressed Janikowksi and he admitted there would be a telephone consultation with him and Aguayo coming soon. Janikowski spoke to Aguayo before the game but wanted to wait until after the game for any significant chatter.