Gerald McCoy "Demands Resources"
October 27th, 2016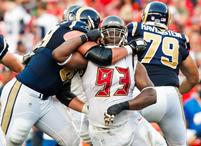 So guess who was handed the defensive game ball Sunday from Bucs defensive coaches?
It was that popular, four-time Pro Bowler/fan punching bag Gerald McCoy.
Defensive coordinator Mike Smith shared this info today at One Buc Palace.
Smith said McCoy made his teammates better, showed no rust after returning from a calf injury and "demands resources" from opposing offense. Those resources Smith referenced are McCoy absorbing a load of attention in the trenches.
What a beast McCoy is!
Sunday would be one hell of a time for McCoy to put a game on his back and blow up with a few sacks. The Bucs are going to need defensive heroics to slow the Raiders offense. If they can't get to the passer — Derek Carr has taken just 15 QB hits in seven games; Jameis has absorbed 51 through six games — then the Raiders are almost certain to rack up at 24 points.