Completion Rate Sinking Deep
October 31st, 2016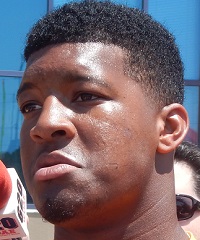 Only two full-time starting quarterbacks this season have a worse completion percentage than America's Quarterback, Jameis Winston.
It's painful for Joe to type this, but it's a harsh reality that illustrates the apparent regression of Jameis.
Completing 58.7 percent of his passes in 2016, Jameis is only ahead of Cam Newton (57 percent) and Ryan Fitzpatrick (56.1) in that department.
Fingers can be pointed in all kinds of directions, but the numbers don't distort in this case. Jameis was at 58.3 percent last year, so perhaps this is who Jameis is?
Mike Glennon completed 59.4 percent of his passes as a rookie, and he, like Jameis, was throwing to a messy receiving corps. In 2014, Josh McCown completed 56.3 percent of his throws behind one of the worst offensive lines in Buccaneers history.
This season, nine full-time NFL starters are completing at least two-thirds of their pass attempts.
Jameis has a long way to go to approach that stratosphere. Joe believes Jameis will get there.