Cameron Wake, Booger, Brooks & The Bucs
October 27th, 2016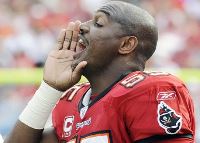 When Bucs legend Derrick Brooks is talking, Joe is listening.
You can take that to the bank.
Yesterday, Brooks joined the dean of Tampa Bay sports radio, Steve Duemig, for their weekly Tampa-2 show on WDAE-AM 620.
Brooks and Duemig discussed possible trade interest of the Bucs at the Nov. 1 league deadline. Brooks speculated the Bucs' interest [keyword: speculated] could be in fortifying their defensive line, which has been hammered by injuries.
Interrupting Brooks, Duemig announced had just received a text from former Bucs defensive tackle Booger McFarland about veteran Dolphins DE Cameron Wake being a target for Tampa Bay.
Wake, 34, has had his share of magical seasons, double digit sacks in 2010, 2012 and 2014. And there has been public talk that Wake wants out of Miami.
Of course, Wake would represent a rental property. He's old and is making just under $8 million per season, this year and next. Wake has three sacks in two starts this season.
Dealing for Wake is the kind of move you make if you think you're in a playoff hunt, and if you're not confident in Robert Ayers' messed up left ankle recovering.
If the Bucs beat the Raiders on Sunday, then maybe this looks appealing.