Newton Watching Film, Visiting Record Stores
October 6th, 2016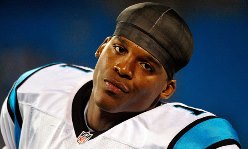 Yes, Cam Newton had a concussion Sunday and wasn't allowed to practice yesterday.
But it seems Newton is behaving normally and not acting like a damaged player otherwise.
With the Bucs heading to Carolina on Monday night, Joe's been keeping tabs on Newton's situation via his friends at BlackandBlueReview.com, the Panthers site rendering Charlotte's mainstream media irrelevant.
Neither Anderson nor head coach Ron Rivera met with reporters Wednesday, so it was up to third-string quarterback Joe Webb to provide an update on the NFL's reigning MVP.

"He was in good spirits," Webb said when asked about Newton's demeanor before his teammates went out to practice. "He wasn't down or nothing like that."

Newton, who suffered his first documented concussion when he took a legal helmet-to-helmet hit from Falcons linebacker Deion Jones on a two-point conversion run, was feeling good enough to watch film Wednesday before popping into a local music store. But a series of neuropsychological exams stand between him and his next practice. Then, before he can play in a game, he has to be cleared by both a Panthers' physician and an independent neurologist.
So Newton is watching film and heading out to record stores for selfies with fans? Brain injuries are serious stuff, but it would be surprising if Newton doesn't find a way to be cleared for Monday night.
Newton is anything but soft, so that's not a consideration in this equation.