"We Just Haven't Played Good Football"
October 6th, 2016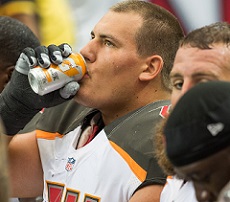 Yes, there is frustration in the Buccaneers' locker room.
No surprise, or perhaps it is surprising, depending on what you think of this Bucs team and its effort.
Speaking on the Buccaneers Radio Network this week, guard Ali Marpet talked about what's gnawing on his football mind, outside of the standings.
"I think what's frustrating. … There are flashes for us. We can see what we're capable of. But we just haven't played good football. That's pretty much it," Marpet said. "We're capable of playing solid football, complementary football, as Donovan [Smith] said. But it hasn't been there yet. Again, we've shown flashes of it. And we can even do it against one of the best defenses in the league at times. But you need to play an entire game to be consistent. We haven't done that yet."
Ahh, inconsistency. It is troubling that the Bucs are seeing so much of it on offense, considering much of the offense has returned — same playcaller, quarterback, receivers, etc.
But that's also the greatest reason Joe has hope that the ship will be righted. Now consistency won't fix Father Time catching up to Vincent Jackson, or Doug Martin's hamstring, but it can rectify a lot of the other ills of the offense.