Bucs Sign Experienced Defensive Tackle; Ominous Sign For Gerald McCoy
October 3rd, 2016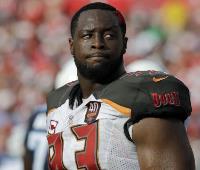 Oh, boy. Joe's late lunch is coming back up.
Pro Bowler Gerald McCoy significantly injured his left calf yesterday, and then was spotted wearing the dreaded boot after the game.
Now comes word that the Bucs have signed a new defensive tackle, veteran John Hughes, III.
Do that math. That's not a pretty equation.
Hughes was a third-round pick of the Browns in 2012. He largely was a backup there for four-plus seasons. Cleveland cut him this month, the Patriots picked him up last week, and now he's a Buccaneer.
He was with the Browns when Bucs offensive line coach George Warhop had the same job in Cleveland.
Yesterday, Joe hoped McCoy would only miss next Monday's game before the Week 6 bye. Right now, that scenario feels like a happy dream.