Bucs Dissed With No. 25 Power Ranking
October 11th, 2016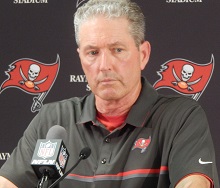 A power broker in the NFL Media world thinks the Bucs are garbage.
Shame, shame, shame on you Pat Kirwan.
Kirwan, a former Bucs scout and Jets linebackers coach and personnel chief, co-hosts the fabulous Movin' The Chains on SiriusXM NFL Radio on weekday afternoons. He's also a busy guy with CBS Sports and his own RealFootballNetwork.com when he's not writing books on Xs and Os.
Heck, Kirwan is a friend of Bucs defensive coordinator Mike Smith and he has his share of strong relationships inside One Buc Palace. Still, after watching the Bucs victory against the Panthers last night, Kirwan sees the proud owners of second place in the NFC South as the eighth-worst team in the NFL. He ranked Tampa Bay 25th in his power rankings this afternoon.
25. Tampa Bay (25)
A tough division win on the road is a good building block for this team, and I finally saw in Jameis Winston, the guy we've been waiting for all year.
In a stunning display of Bucs bashing, Kirwan had the Saints ranked 25th last week, but he bumped them to 21st this week, despite their 1-3 record and bye weekend off.
And if that's not enough to run head first into a wall, Kirwan ranks the Panthers at No. 14, up one notch from last week.
Joe has a lot of respect for Kirwan, but it eroded significantly this afternoon.