Father Dungy Explains How The Bucs Can Win
October 1st, 2016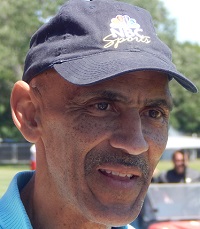 Joe is so damn sick of all this "culture" talk, regarding the Buccaneers' losing ways.
Dirk Koetter started it last week, but the media — local and national — has taken it to extreme levels.
Everybody is happy to weigh in. That includes Father Dungy, the Hall of Fame coach and Bucs icon who did all he could to get the Bucs to draft Marcus Mariota.
Father Dungy joined WDAE-AM 620 this week and said Koetter was on the money when he said it's the "culture" that needs to change.
"It was learning how to win and learning how to not just play on Sunday afternoons at 1 o'clock, but how to practice, how to support each other in the locker room, how to support each other in the media, how to be a positive part of the community," Dungy said. "And I remember Derrick Brooks coming to me after I kind of said that in my first speech to the team and him saying, 'Hey, tell us how we're going to win games. All that's great but how are we going to win?'"

"It took our players a while to learn that's how you win — by doing all those things the right way and being on top of all the details. It took us 3/4 of a year, actually. And our players got it. My second year you could see the culture changed. It was different."
What's most frustrating is teams every year are able to flip their culture in the right direction with new head coaches.
Look at the 2014 head coaching class in the NFL. First-time head coaches Bill O'Brien and Mike Zimmer had fast success without quality starting quarterbacks. But Lovie Smith and Ken Whisenhunt, for example, proved incompetent.
Koetter should able to get the Bucs headed in the right direction without magic beans, especially with a strong offensive line and America's Quarterback, Jameis Winston. There's also enough talent around elsewhere to leave Bucs fans upllifted entering the offseason.
No excuses.
You can hear the full audio of Dungy below.