The Regular Season Is Upon Us
September 2nd, 2016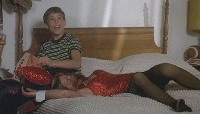 Watching that slop — both the game conditions and the play — Wednesday night made Joe want to throw a remote at his HDTV screen.
To pass off that crap as NFL football, and for the league to feign concern over injuries the way it does and produce that monstrosity, was a slap in the face to Joe and intelligent fans.
Thank God that crap is over and the regular season is here. We have been pining for this since February. It is now here, like a CARE package that came flying through the window.
Yes, the Bucs will practice today, have a couple of days off this weekend, and then — boom! — game week commences!
After actually having to coach that drek Wednesday night, no one seems happier for the regular season to begin than Dirk Koetter.
"It's going to be fantastic, it's going to be awesome," Koetter said. "I can't tell you how much I'm looking forward to getting the roster set, getting this behind us. I mean this is not a fun way to finish preseason – it's just a sour taste after what I think was a productive preseason, not at all what we had in mind. We've got to realize we weren't playing our best guys out there tonight, and this game serves a purpose, you have to keep reminding yourself of that. It'll be great to put it behind us and get on with it."
Yes, preseason is done. After fans get to refresh themselves with all sorts of good college football this three-day weekend, we can get down to the business at hand.
In hours, it will be Dixie Chicks Week!