"The Bucs Are For Real"
September 15th, 2016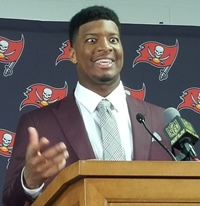 The biggest national NFL media voice has moved all-in on Tampa Bay — at least for this week.
Joe's talking about mighty ProFootballTalk.com creator and guru Mike Florio, who also hosts PFT Live on NBC Sports Radio (Joe's morning routine) and breaks down all things NFL on NBC TV.
Florio was picking games today, and he smells the Bucs going 2-0.
Florio's take: There really wasn't an eyebrow-raising upset in Week One. So let's roll the dice and get ahead of an "I should have seen it coming" moment. The Bucs are for real and the Cardinals could be reeling if they start the year 0-2 at home.

Florio's pick: Buccaneers 28, Cardinals 24.
Could you imagine? Joe would lose his mind in ecstasy. (And yes, Joe will be there in the flesh Sunday with postgame coverage.)
Derrick Brooks said on WDAE-AM 620 this week that the Bucs beating Arizona would send shockwaves through the NFL, not because of the Cardinals loss and 0-2 record, per Brooks, but because of the Bucs' rise after two road games to start the season.
Dare to dream today, Bucs fans.