Falcons Stat That Will Ruin Your Lunch
September 8th, 2016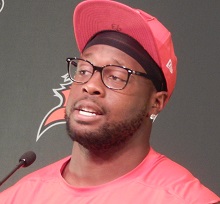 The Bucs just can't lose Sunday in Atlanta. It simply can't happen. Tampa Bay beat Atlanta twice last year, and the Bucs head to the mighty Cardinals in Week 2.
Joe isn't scared to type it: Sunday is a must-win.
The Bucs know it isn't just another game. The "Start Fast" signage in the Buccaneers locker room is quality proof.
Yesterday, Joe found a scary fact and verified the data.  The Falcons have won eight consecutive home openers. That's every season since Matt Ryan was drafted in 2008. What a kick-in-the-groin nugget that is.
Joe doesn't believe in coincidences. It's obvious that Ryan knows how to prepare himself for the start of a season.
Of course, there are so many variables, but eight years is a long time, and Ryan is the constant.
Joe would share Ryan's stats in those eight games, but Joe doesn't want to cause panic.
It's time for Gerald McCoy and Lavonte David, the beasts of the Bucs defense, to do what they like to say in Atlanta: Rise Up.