Odd Prediction From Chris Simms
September 8th, 2016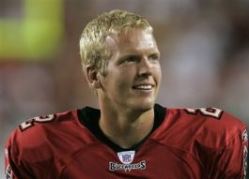 As opening day approaches, scores of predictions can be found from knowledgeable football men.
Former Bucs, Titans and Broncos quarterback Chris Simms is one of those guys.
Joe finds Simms to be a real up-and-comer in the media. He's carved out a strong NFL niche on Bleacher Report, and you can also find him on TV calling college and pro games. He's a fantastic interview as well, with a keen ability to explain Xs and Os.
Simms issued his latest NFL Power Rankings and it's obvious  he thinks the NFC South is steaming garbage. The Bucs are in the shameful position of No. 24 overall, one spot better than the Saints and one place behind the Titans. Simms has Atlanta, Sunday's opponent for the Bucs, at No. 22.
But this is where it gets odd. Simms believes the Falcons are a better team yet he picks the Bucs to win Sunday.
Here's how he broke it down at BleacherReport.com.
I hate reading too much into preseason tape.

It's just tough to ignore what I see when I look at Matt Ryan. Physically, his arm looks like it's on the decline. He's not throwing with power or accuracy. As a result, you see him second-guessing his own throws and throwing with far less confidence than anyone hopes for.

Mike Smith knows Ryan's limits like no other. Now, the former Falcons head coach is coordinating Tampa Bay's defense. He'll put Gerald McCoy and Co. in the perfect position to earn a little revenge.

The pick: Buccaneers
Man, all these predictions are driving Joe nuts. Thankfully, the whistle blows in three days.