Swap Boot "Unstoppable"
September 4th, 2016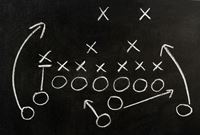 It seems each team has a signature play.
For example, remember former Bucs offensive coordinator Greg Olson and his fetish for the Benn'd Around?
Well, Matt Bowen of BSPN believes the Bucs have a new favorite play. And when used properly, it cannot be stopped he believes.
What is this play? Bowen calls it the "swap boot."
How it works: Boot plays in the deep red zone (plus 10-yard line) are great because the speed of the game increases. And that means defenders are often too quick with their run/pass keys, leading to busts. Here, the Bucs bring 21/Pony personnel onto the field (two tailbacks in the game) and align Charles Sims (F) in a wing alignment. At the snap, quarterback Jameis Winston (Q) and running back Doug Martin (R) show the toss action to pull the linebackers to the open side of the formation. However, this is a boot — or a swap boot — with Sims coming behind the line of scrimmage and the X receiver running a crossing route. With the tight end (Y) blocking down and then releasing, Winston has three immediate targets to hit (Sims is the primary). This is a great call to catch the defense in the red zone.
If you go to the link above, there is a diagram of the play. (The diagram Joe has displayed is not the diagram of the play).
It's an interesting formation as it has both Doug Martin (a power runner who can break tackles) and Charles Sims (a dangerous pass-catcher) on the field at the same time.
Talk about a defense not knowing who to cover.